Arriva il Natale, e come è tradizione arrivano le nuove Battleforce, convenienti armate per iniziare a giocare a Warhammer 40,000 o Warhammer Age of Sigmar spendendo poco! Quest'anno ben dieci Battleforce nuove di zecca vi aspettano, andiamo a vederle insieme!
CRAFTWORLDS ASURYANI BLADEHOST
Un'eccellente base per chiunque voglia iniziare gli Eldar, questa scatola contiene un Farseer come comandante, una sempreverde squadra di Guardiani e una di Dire Avengers come truppa, una squadra di Jetbike accompagnata da una Vyper e un torreggiante Wraithknight! L'abbondanza di unità veloci è ottima per prendere obiettivi, mentre i poteri psionici del Farseer fanno funzionare meglio la truppa. Unita a un paio di veicoli volanti come il Wave Serpent o il Falcon questa Battleforce vi da un esercito solido ed efficiente!
Risparmio rispetto alle singole confezioni: 90€
DEATH GUARD INFECTION CLUSTER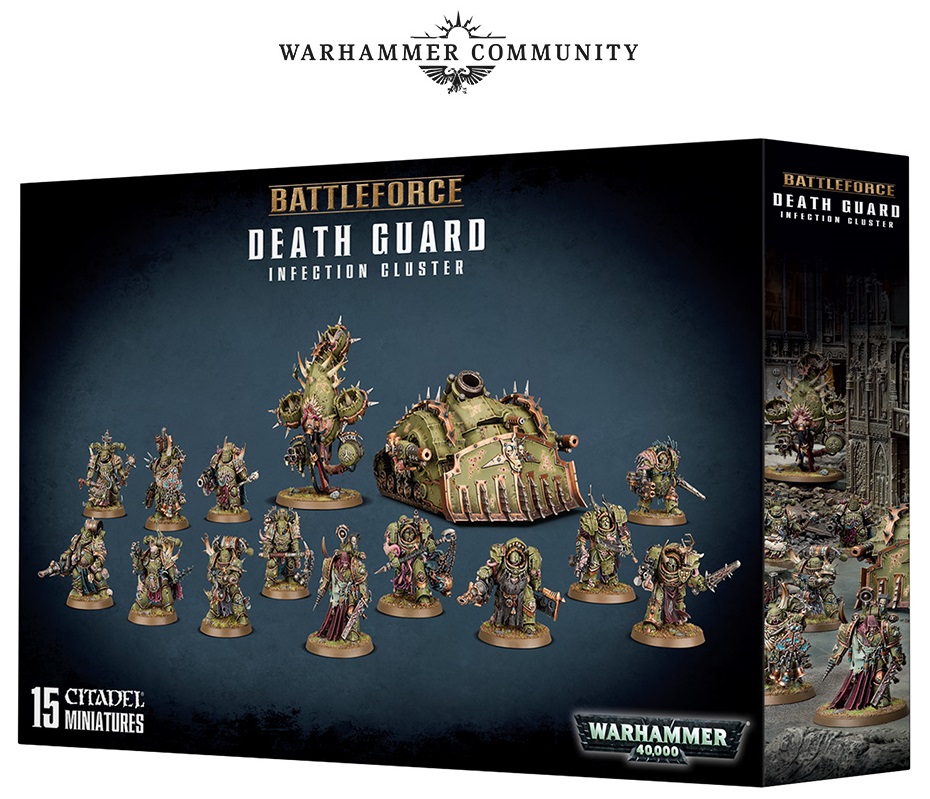 Ottima da abbinare a Dark Imperium, la Battleforce fornisce tutto quello che la scatola base non include: una seconda unità di Plague Marines, i resistenti e letali Blightlords Terminator (perfetti per accompagnare il Lord in Terminator), 1 Foetid Bloat-Drone con tutte le opzioni arma disponibili, 1 Plague Surgeon e il temibile Plagueburst Crawler per massacrare i nemici a distanza. Gloria a Nurgle!
Risparmio rispetto alle singole confezioni: 70€
NECRON DOMINION SPEARHEAD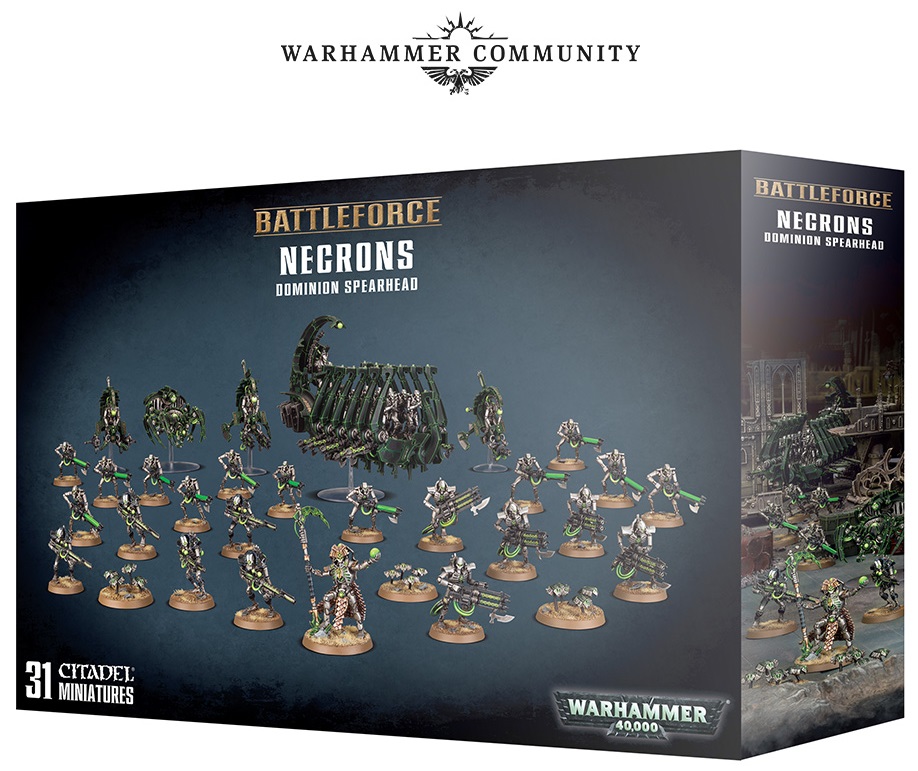 Il Lord Necron in plastica guida in battaglia una forza di tutto rispetto: 12 Warriors e 10 Immortals formano l'ossatura dell'esercito, mentre Swarms, Spider e Tomb Blade proteggono i fianchi. La Battleforce include anche una Ghost Ark, assemblabile come Doomsday Ark se preferite abbattere i nemici da lontano!
Risparmio rispetto alle singole confezioni: 64€
IMPERIAL FIST SUPREMACY FORCE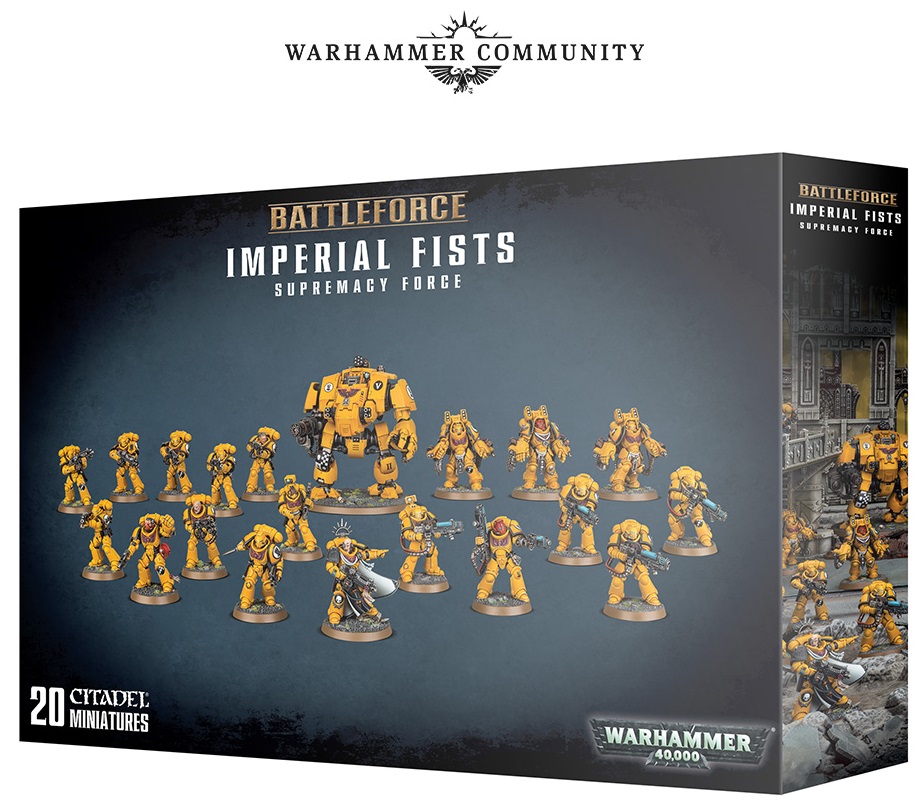 Prima Battleforce in assoluto dedicata ai figli di Dorn, e unica ad includere qualcosa di nuovo e unico: tre Sprue di modifica degli Imperial Fist Primaris! Notare che include un Power Fist, opzione arma teoricamente non disponibile a questi Space Marine: che sia una anticipazione del futuro?
La scatola contiene un Capitano, 10 Intercessors, 5 Hellblasters, 1 Redemptor Dreadnought e 3 Aggressors: portate morte ai nemici del Primarca!
Risparmio rispetto alle singole confezioni: 63€ (senza contare i kit di modifica)
SPACE MARINES PRIMARIS INTERDICTION FORCE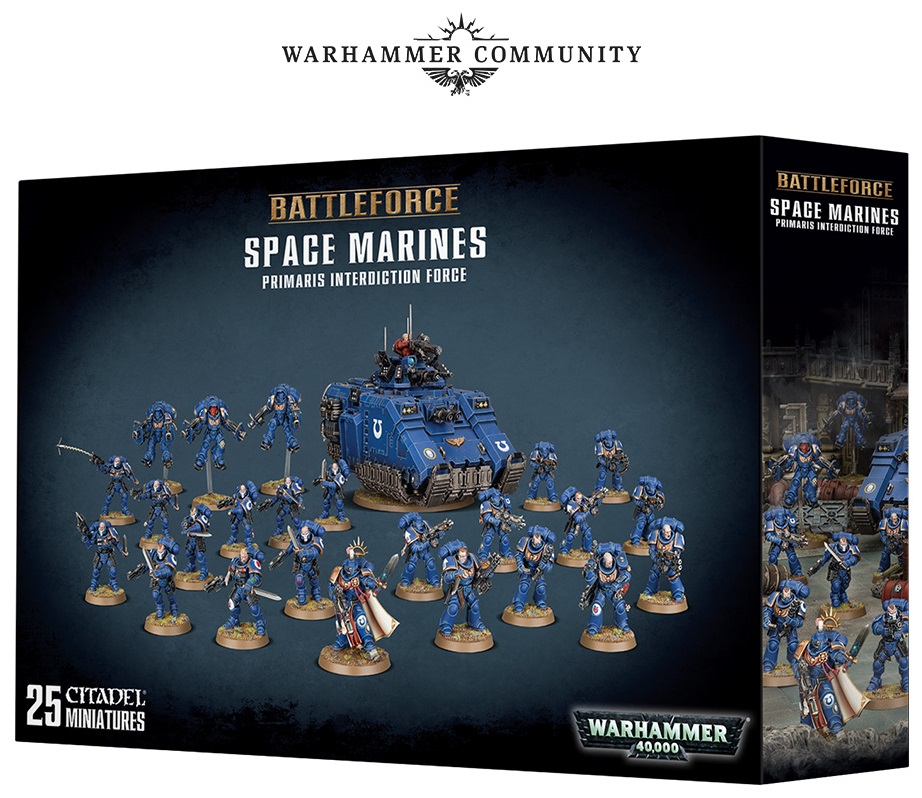 Amate i Marines ma il giallo non è di vostro gradimento? Ecco l'armata che fa per voi, perfetta se già avete Dark Imperium! 1 Capitano, 10 Intercessors, 10 Reivers, 3 Inceptor e un mostruoso Repulsor vi garantiscono forza, velocità e potenza di fuoco!
Risparmio rispetto alle singole confezioni: 95€
ADEPTUS MECHANICUS FIST OF THE OMNISSIAH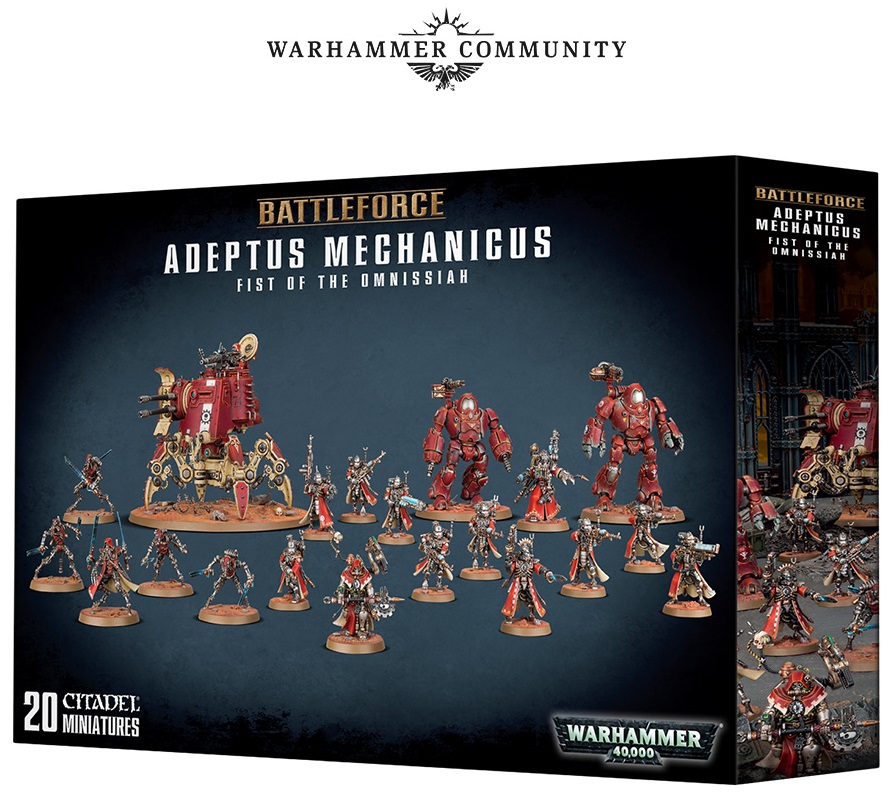 Marte scende in guerra con questa favolosa Battleforce adatta ai veri fedeli dell'Omnissia: 1 Tech-Priest Enginseer guida in battaglia un esercito enorme formato da 10 Skitarii Vanguard, 5 Ruststalkers, 2 Kastelan e 1 Cybernetica Datasmith e 1 Onager Dunecrawler!
Risparmio rispetto alle singole confezioni: 67€
IDONETH DEEPKIN DEEPSURGE RAIDING PARTY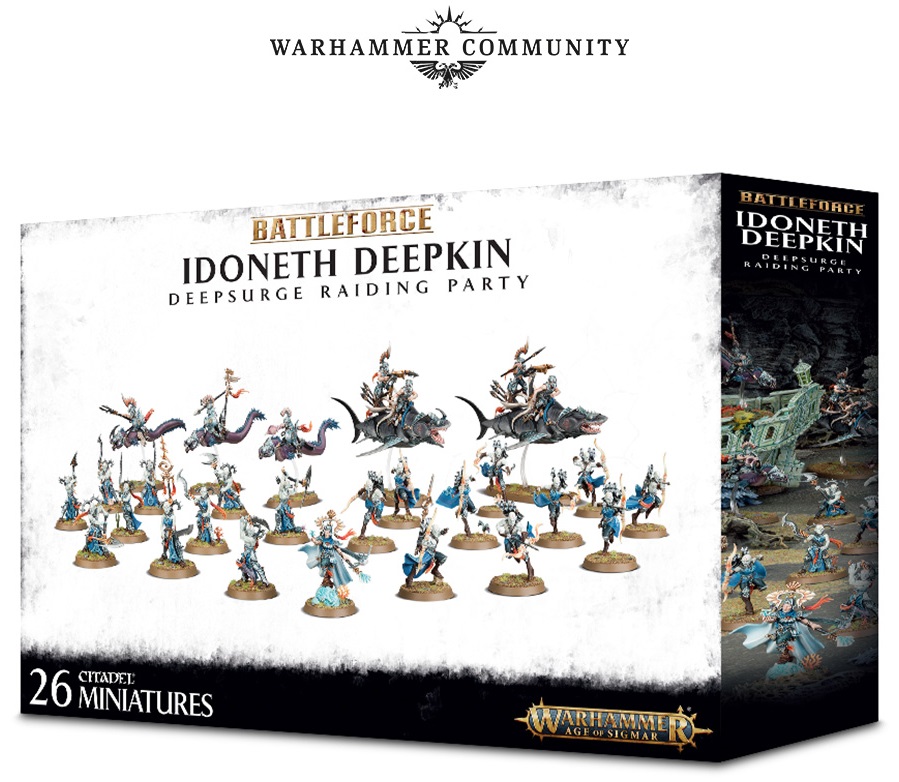 Dalle profondità abissali emergono gli Idoneth pronti a sconfiggere i nemici e predare anime! La scatola contiene 1 Tidecaster, 10 Namarti Tralls e 10 Namarti Reavers con svariate opzioni arma, 3 Akhellan Guard e due Allopex, i mostruosi squali cavalcati dagli elfi del mare!
Risparmio rispetto alle singole confezioni: 80€
SLAVES TO DARKNESS GODSWORN WARBAND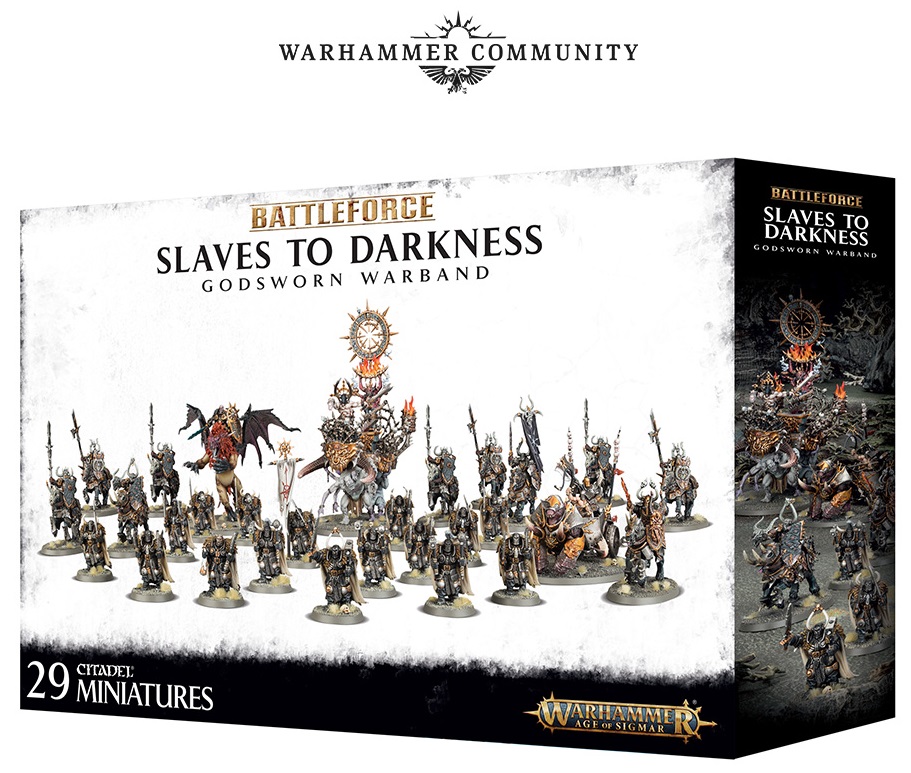 Assolutamente adatta vista la possibile uscita di un nuovo Battletome in tempi brevi, questa armata è perfetta per assemblare una forza di barbari e guerrieri fedeli agli Dei Oscuri! È guidata da un Chaos Lord on Manticore accompagnato da un Chaos Chariot e un Chaos Warshrine, mentre le truppe sono nientemeno che 16 Warriors e 10 Knight: una valanga di acciaio demoniaco pronta a travolgere i Reami Mortali!
Risparmio rispetto alle singole confezioni: 73€
DAUGHTERS OF KHAINE DEVOTED TO MORATHI
Una delle armate uscite quest'anno, le Daughters of Khaine si sono dimostrate sia bellissime che estremamente forti! Questa Battleforce vi fornisce una perfetta base per l'esercito: 1 Bloodwrack Shrine (con i suoi personaggi e componenti extra), 10 Witch Elves, 10 Khinerai e 5 Blood Sisters!
Risparmio rispetto alle singole confezioni: 85€
SERAPHON STARCLAW SKYHOST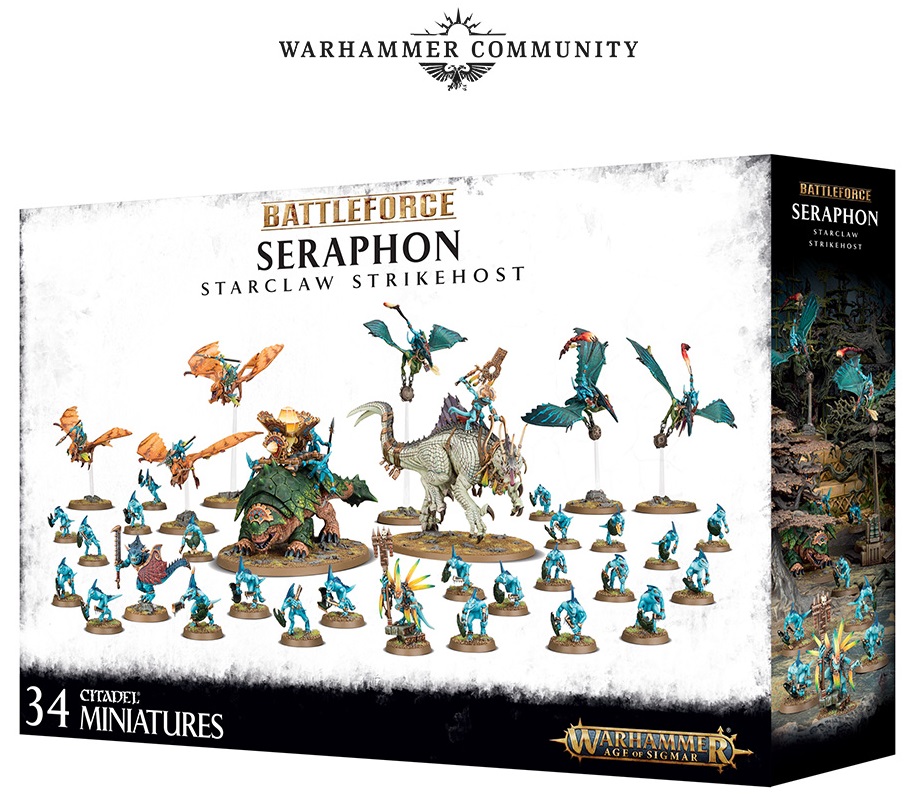 I preferiti da sempre di un pubblico vastissimo, i Seraphon discendono nuovamente dai cieli per distruggere il Chaos con questa Battleforce! Guidata da uno Skink Starpriest e da un Saurus su Carnosauro (potete assemblare il personaggio a piedi e assemblare la bestia come Troglodon), annovera fra le sue fila anche 1 Bastiladon, 6 Terradon Riders e 24 Skinks, tutti assemblabili con una pletora di opzioni arma!
Risparmio rispetto alle singole confezioni: 116€
Come ogni anno, le scorte sono estremamente limitate quindi se non volete perdere queste straordinarie armate prenotatele ORA scrivendo a uno dei nostri negozi! Buon natale e buon nuovo esercito a tutti!