Agli ultimi grandi eventi Games Workshop non sono mancati rumors succosi, ma su tutti uno sta catturando l'attenzione degli hobbisti anche per il suo approccio unico: stiamo ovviamente parlando di Warcry, il nuovo Skirmish che sembra essere tutto e il contrario di tutto!
È uno skirmish come Kill Team? È un gioco narrativo come il compianto Inquisitor? È a campagne come Mordheim? E i modelli saranno giocabili in Age of Sigmar?
Cerchiamo di dare qualche risposta unendo un po' di notizie e dando un'occhiata alle nuove miniature!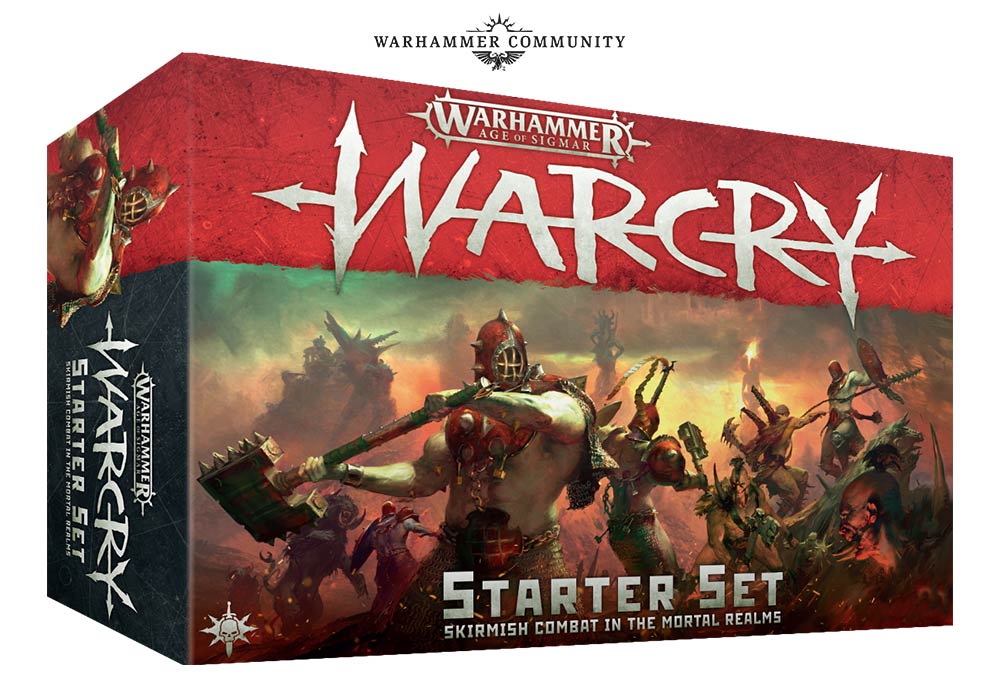 LE DESOLAZIONI DEL CAOS SONO AFFOLLATE
Una cosa è sicura: Warcry presenta scontri fra bande del Caos. Nella fattispecie saranno presenti almeno sei "clan" diversi, di cui per ora abbiamo visto qualche modello. Lo stile sembra riprendere i modelli dei Darkoath che da mesi si vocifera siano di prossima uscita, nonostante per ora siano rappresentati solo dalla Warqueen e dal Chieftain (e dalla banda di Nightvault).
Tuttavia, almeno otto bande non caotiche saranno giocabili: in teoria GW ne ha annunciate nove, ma ha mostrato solo otto simboli (fra cui riconosciamo facilmente Gloomspite, Daughters of Khaine, Stormcast e altro). Avranno nuovi modelli? Improbabile. Quindi useranno modelli esistenti. Da più kit o da uno soltanto?
CAMPO APERTO O LIMITI STABILITI?
Un'altra domanda interessante è quanto il campo da gioco sarà personalizzabile: il videotrailer non è chiarissimo e l'unica cosa evidente è che ci saranno elementi scenici dedicati che possono essere scalati. Ma il terreno base sarà una plancia come Kill Team o libero come Mordheim? O entrambe le cose, come Necromunda? Escludiamo gli esagoni perché abbiamo già Nightvault, ovviamente. E parlando di quest'ultimo…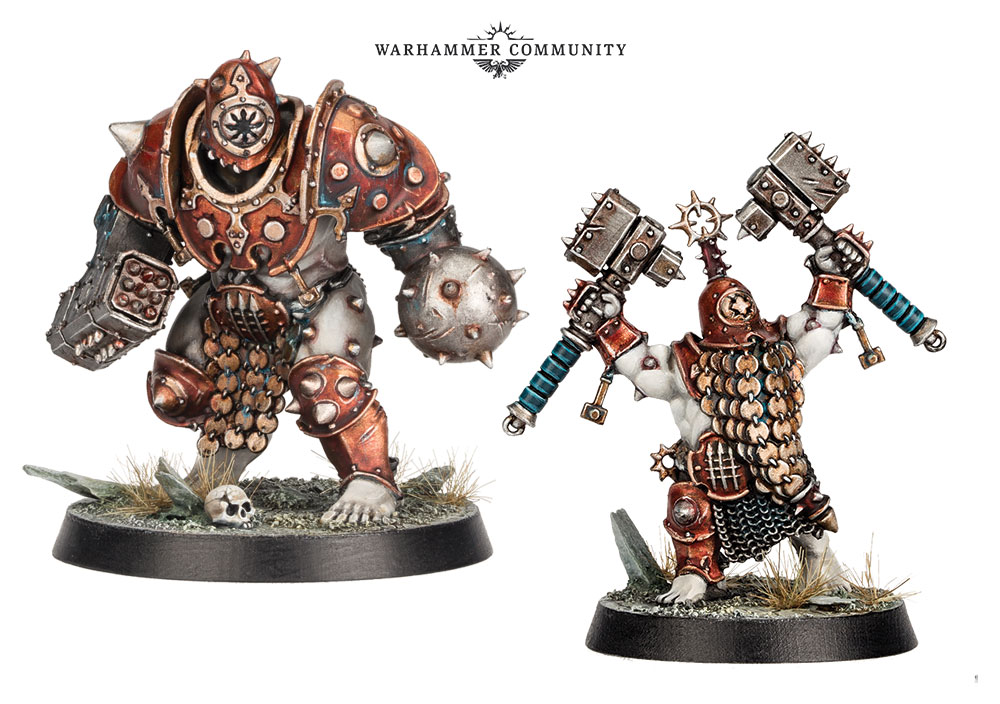 COMPETIZIONE APERTA
Sembra assurdo creare un secondo gioco puramente competitivo, perché andrebbe in diretta concorrenza con Warhammer Underworlds (il sistema che ci ha dato Shadespire e Nightvault). L'unica cosa che sappiamo per certo è che sarà possibile giocare delle campagne narrative, proprio come Necromunda e Mordheim. Ma questo porta solo a nuove domande, una su tutte: come funzionano le miniature?
COSTRUITI PER LA GUERRA
La prima banda che abbiamo visto bene sono gli Iron Golem, presentati all'Adepticon di marzo. Purtroppo chi pensava che molti dubbi sarebbero stati risolti da questa analisi si è trovato solo più confuso di prima! La banda presenta non solo armamenti molto elaborati e strani per un gioco di schermaglie (uno su tutti lo stendardo), ma soprattutto un Ogor e un Duardin! Lo sprue degli Iron Golem avrà quindi equipaggamenti fissi? O sarà, come molti pensano, un kit ulticomponente che poi andrà a unirsi alla gamma dei Darkoath in uscita? E se il secondo caso è quello giusto, come si giustifica la presenza dei modelli non umani? Ogni risposta sembra solo portare a più domande…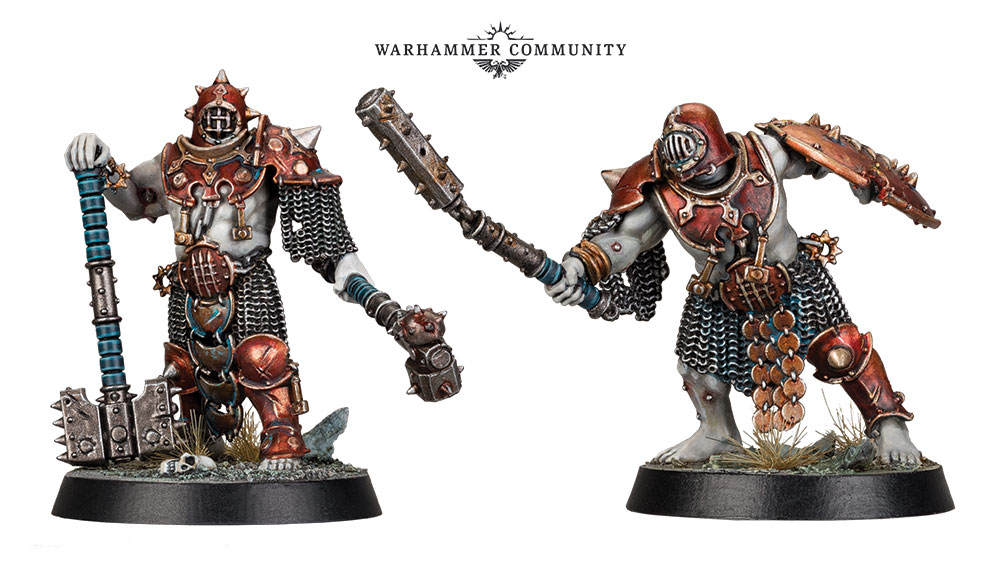 BESTIE SENZA FRENO
Non solo umanoidi: abbiamo visto che Warcry conterrà anche creature delle desolazioni del Caos meno evolute, come le Furie (demoni minori) e il minaccioso Raptoryx: saranno una banda a parte? Saranno "assoldabili" dalle altre bande? Se si, anche da quelle non caotiche? Se no, le bande non caotiche avranno i loro animaletti (come i Gryph-hound per gli Stormcast e gli Squig per i Gloomspite)?
IL MOMENTO DELLA VERITÀ
Come avrete capito, le cose sono ancora piuttosto nebulose: probabilmente scopriremo tutto a maggio durante il Warhammer Fest (a cui lo staff di Galactus Ciampino sarà presente in qualità di visitatore!), nel frattempo possiamo solo bearci dell'incredibile qualità delle miniature già presentate e lasciarci trasportare dalla nostra immaginazione: non vediamo l'ora di scoprirne di più su Warcry e sulle bande di gloriosi eroi e disperati assassini che lo animeranno!
Mauro Canavese