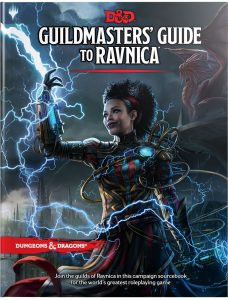 È finalmente disponibile sui nostri scaffali il bellissimo manuale D&D a tema Ravnica, una delle città più belle e storiche di Magic: The Gathering! Il manuale offre moltissimi spunti per avventure tutte nuove e particolari: è presente una dettagliatissima descrizione della città, con tanto di mappe per i vari distretti, in cui poter ambientare le scorribande del vostro coraggioso gruppo di eroi. Inoltre la città è divisa in dieci gilde, che influiranno sulla creazione dei personaggi; le classi sono quelle di D&D 5.0 e sono presenti varie schede per indicare le possibili combinazioni di classi e gilde e i diversi risultati che si possono raggiungere crescendo di livello in base ad esse.
A completare le 256 pagine anche un bestiario ricco di creature fantasiose ed eccezionali che traggono ispirazione dalla stessa Ravnica, come il famoso drago Niv-Mizzet.
Se siete amanti di D&D non potete perdere l'occasione di esplorare questa tentacolare città; se siete amanti di Magic dovreste sperimentare il brivido di viverlo finalmente in prima persona; e se siete amanti di entrambi i giochi… cosa state aspettando?!
Il manuale Guildmasters' Guide to Ravnica è disponibile nei nostri negozi al prezzo di copertina di 49,95€. Le copie sono poche: affrettatevi per non perdere l'occasione di vivere questa nuova avventura!